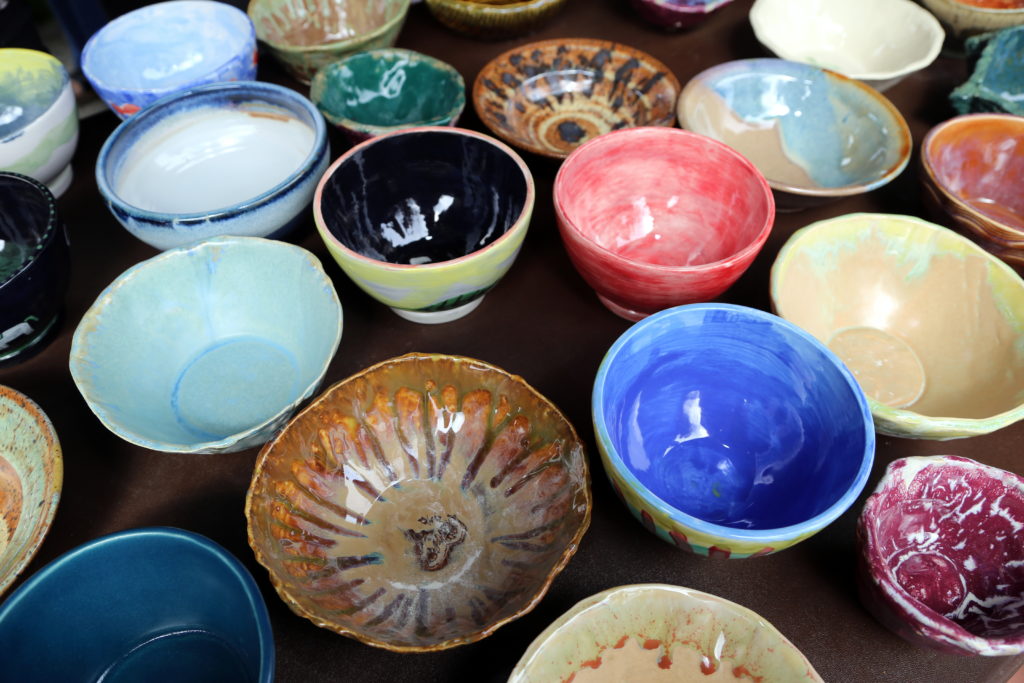 The 2020 Empty Bowls event has been so successful, we have scheduled a "Second Helping" Saturday pick-up party on October 10 from 11am to 1pm at St. Patrick's Catholic Church in Arroyo Grande. Thanks to everyone who has continued to support our efforts!
Please follow the signs to the WEST Parking Lot between the church and the mortuary. Once you park, please put a mask on before exiting your vehicle. MASKS ARE REQUIRED. NOTE: If you are not comfortable exiting your vehicle, we will have designated parking spots marked with cones and signs. Volunteer "runners" will take your ticket(s) and ask what kind of bowl(s) you would like. They will pick out a bowl for you, place it in the bag with your soup coupon, and return it to your car.
Present your ticket(s) at check-in. Please stay on markers to ensure social distancing in line. You will receive a soup coupon and a bag in which to put your bowl. Forgot your ticket? No problem. Show us your ticket on your phone, or give us your name, and we can look you up. Haven't purchased a ticket yet? We'll sell you one at the event.
You will be assigned a volunteer "bowl buddy" who will go down the tables with you. They will wear gloves and can pick up and show you any bowl you are interested in seeing up close. Please DO NOT pick up bowls yourself as you are going down the line
After selecting your bowl, place it in your bag with your soup coupon and leave via the one-way exit back to your vehicle.
Redeem your coupon for one bowl of soup at ANY of the participating restaurants listed on the back of the coupon. Please DO NOT bring your bowl into the restaurant. Due to COVID-19 restrictions, restaurants are unable to serve you in your Empty Bowls bowl. Coupons are valid until December 31, 2020.
A selection of bowls from all our Empty Bowls artists will be available.
If you have questions please contact Devon McQuade at (805) 459-0531.
Participating restaurants include:
Adelina's at Trilogy
Brad's Restaurant
Branch Street Deli
California Fresh Market
CJs Cafe
Coco's
DePalo & Sons Market
Fin's Bar & Grill
Honeymoon Cafe
Huckleberry's
Jaffa Cafe
Lido at Dolphin Bay
Mason Bar and Kitchen
Old Juan's Cantina
Penny's All-American Cafe
Pismo Coast Village Grill
Rock & Roll Diner
Splash Cafe (Pismo Beach & SLO)
The Market Place at Trilogy
The Spoon Trade
Zorro's
Participating artisans include:
Allan Hanock College Students & Alumni
Altrusa International of SLO County
Anam-Cré Studio
Central Coast Woodturners
Sandy Ferris
Gary Gall
Shirley Hinzo
Mike McNutt
Bob Nichols
Kathryn Phelan
Rowe Clayworks
SLO High School Visual Arts Dept.
Saturday Artists Group
Paula Schaffner
Larry Smith
Alice Sennett Stoneware
Leland Swenson
Trilogy Clay Buddies
Ben Trogdon
Partners who help make Empty Bowls happen include: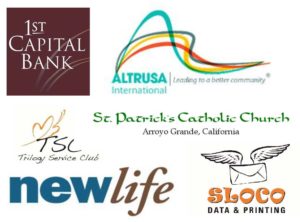 Vivian Krug Cotton / Emotions Photography
Thank you to our Empty Bowls Sponsors
Four-Star Sponsors:
Lisa Christensen
Two-Star Sponsors:
ECO Club Five Cities/Anita Shower
First American Title
Sonny & Shelly Higginbotham
Richard & Kersti Lasiewski
Matt Clevenger/Mackey & Mackey Insurance
Joan Gellert Sargen
Senna's Insurance Services
SESLOC Federal Credit Union
Bob & Donna Severs
One-Star Sponsors:
Brad's Restaurant
Controller-On-Call
Merit Profiles Background Screening
Anna & Tori Miller
Nipomo Community Presbyterian Church
Event Supporters:
Steve DuBow
Gordon & Robin Eiland
Idler's Home
Julia's Juices
Nancy Puder & Associates
Vernon Family