"Dinner for a Cause" at Fin's seafood restaurant in Grover Beach was yet another HUGE! success, raising money for South County residents facing homelessness. [caption id="attachment_2117" align="alignright" width="300"]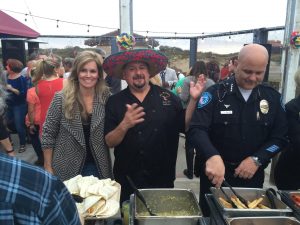 Supervisor Lynn Compton, Fin's Chef Carlos and Chief Jake Miller[/caption] Every penny spent by patrons during "Fiesta at Fin's" on Cinco de Mayo was donated to 5Cities Homeless Coalition by Fin's owner, Bruce Van Vort, and his employees, who generously donated their tips as well. California State Parks, 5Cities Homeless Coalition volunteers and a number of local businesses and individuals provided support for the event, including donated raffle prizes, live entertainment and special desserts. Funds raised will help provide housing and meet immediate financial needs of families who are homeless or facing eviction in South County. A portion of the proceeds also will help Lucia Mar's Families in Transition program supporting homeless youth.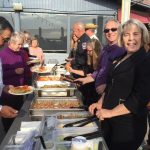 "Requests for help in the Five Cities area are up three-fold over last year at this time," according to 5Cities Homeless Coalition Executive Director Janna Nichols. She says one of the most pressing needs is assistance for families who are trying to stay in their homes despite the loss of a job, rent increases or family breakups. The proceeds raised from the event is a record for a Fin's event supporting 5Cities Homeless Coalition, according to Nichols. Since 2014, Fin's has held several events in support of the organization's programs and services. The next one is scheduled on Giving Tuesday, December 6.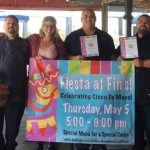 "Many thanks to Fin's Chef Carlos, his fantastic kitchen crew, all the Fin's staff who donated their time and tips – including two who delayed their vacation departures to participate, California State Parks, our business partners and the members of the community who answered the call to support their neighbors in need," said 5Cities Homeless Coalition Board President Mike Byrd. "We couldn't do what we do for the community without such generous support." Volunteer servers, hosts and wait staff included Brent Marshall, Dianne Thompson, Steve Lieberman, Barbara Harmon, Jake Miller, Lynn Compton, Mike Byrd, Rick Gulino, Laurie Morgan, Dena Bellman, Eugenia Gamble, Shelly Higginbotham, Jeff Lee, Richard Van Houten and Larry Vernon.
California Fresh Market
, KK's Bunt Cakes, Eclairs and other friends provided special desserts for the event, and El Tapatio and
Sound Investment
provided entertainment. Thank you all!