Thanks to the Pismo State Beach Golf Course, Fin's Seafood Restaurant, and many generous sponsors, 100% of the proceeds from the sixth annual "Hope for the Homeless" Golf Tournament on Sunday, March 1, was donated to 5Cities Homeless Coalition.
The more than $15,000 raised will help support the critical needs of children, youth and families impacted by homelessness in southern San Luis Obispo County.
We are grateful to our tournament marshal Ed Angelo, Bruce Van Vort and his outstanding crew at the Pismo State Beach Golf Course and Fin's Seafood Restaurant, and of course all the players who came out to play on a perfect day on a beautiful course for a good cause.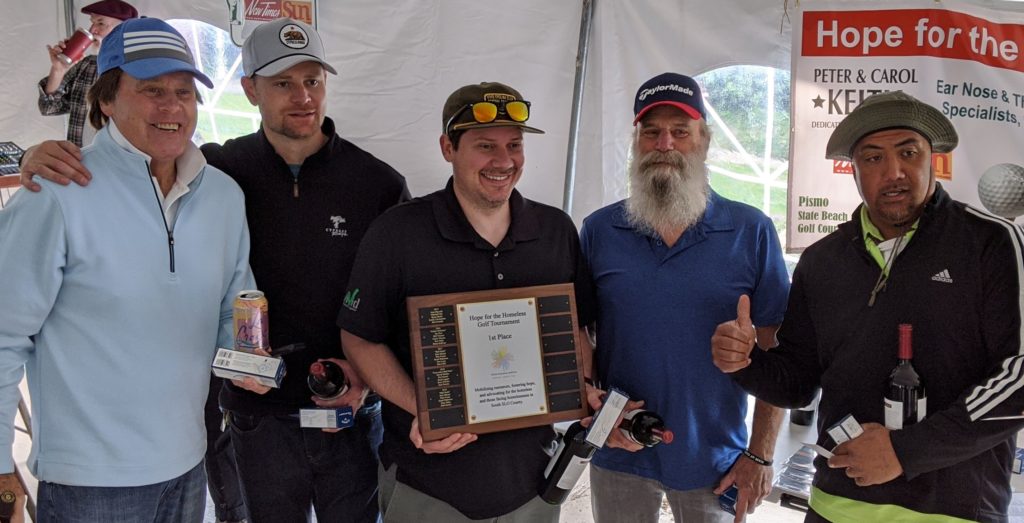 Winning first place in the tournament this year was the five-man team "Four and a Half Men," including David Shaffer, Brad Liggett, Cole Gibson, Charlie Gibson and Klay Mata.
Team "Portuguese Eagles," including Frankie Gonsalves, Larry Yocum, Gene Freitas, Tanner Freitas and Louie Freitas, took second place.
Marty Springer and Scott Swenson won "Closest to the Pin" honors, and Klay Mata claimed the "Longest Birdie Putt" prize on Hole #9.
Appreciation for many years of tournament support goes out to emcee Andy Morris from KVEC 920AM/96.5FM, ECO Club Five Cities for green waste services, and SLOCO Data & Printing.
Of course we couldn't do a major event like this without scores of volunteers, including this year's standouts Karie Lucas, Larry Vernon, Jerri Young and Alice Carter.
TOURNAMENT SPONSORS