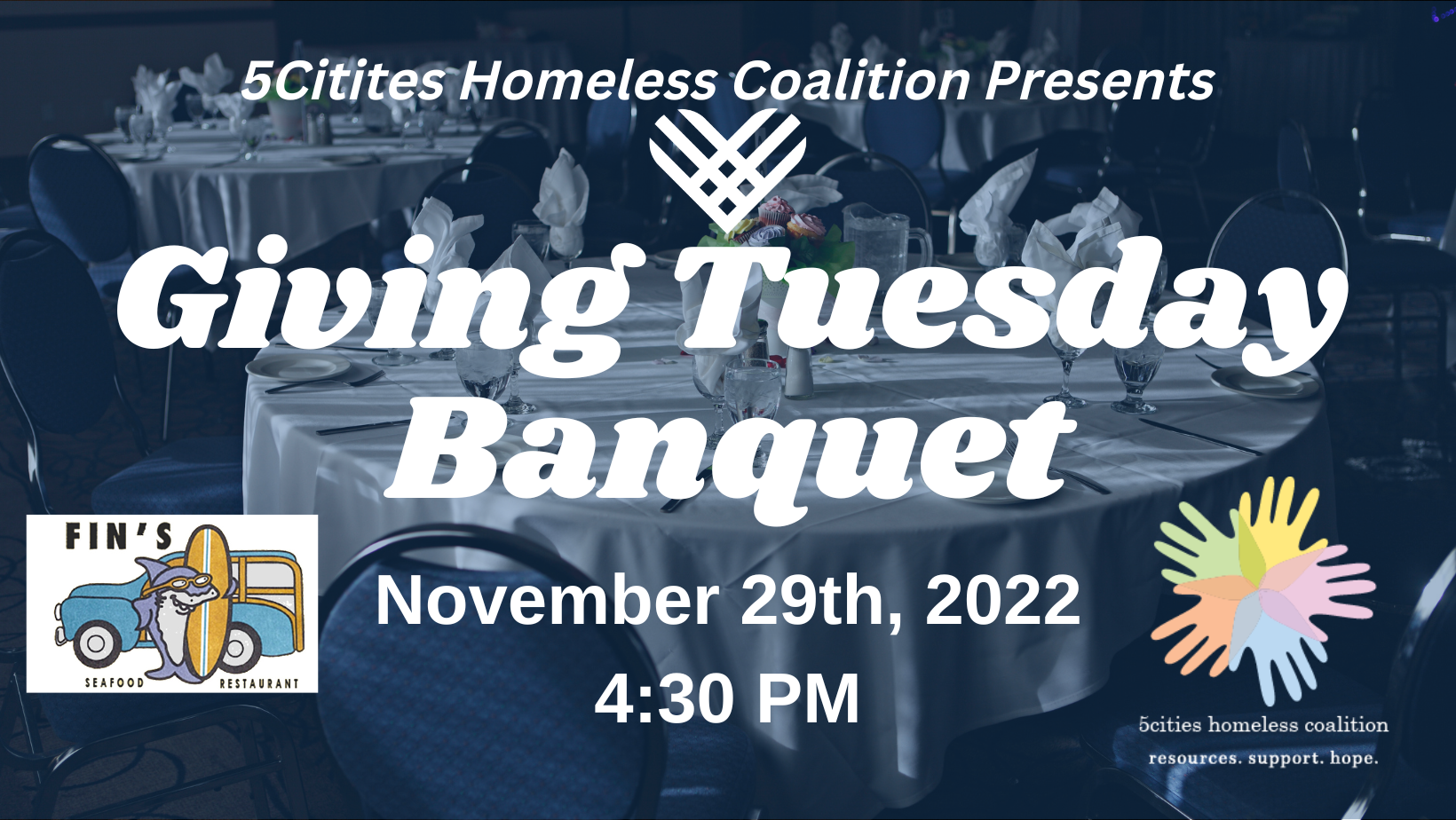 Grover Beach --- Thanks to very generous donations and a great turnout from the community, 5Cities Homeless Coalition's Giving Tuesday fundraisers raised nearly $35,000 for children, youth and families impacted by homelessness in San Luis Obispo County. Pismo Beach Golf Course partnered with Fin's Restaurant in Grover Beach for the Annual Giving Tuesday - "Dinner for a Cause". Those unable to attend the event were able to participate in Giving Tuesday through online donations. 
 
One hundred percent of the proceeds from the event are donated to 5Cities Homeless Coalition to meet critical needs of those who are homeless and facing homelessness, particularly unaccompanied youth and families with children.
 
After two years of hosting drive-thru fundraisers at Fin's Restaurant due to COVID-19 restrictions, Giving Tuesday "Dinner for a Cause" returned to an in-person event held under the donated Pismo Beach Golf Course event tent. Fin's Restaurant also donated in a big way by providing the prime rib dinner that was served to nearly 200 attendees. An overwhelming 50 vendors, local retail businesses, artists, and hotels benevolently gave to the silent auction and raffle.
 
"We are grateful to Bruce Van Vort and the outstanding crew at Fin's, Shameless, our volunteers, our donors and our sponsors, as well as community members who turned out for an evening of generosity," Nichols said. "The funds contributed on Giving Tuesday couldn't come at a better time." Money raised will help meet the increasing calls for Coalition services.
 
"2022 has seen the greatest volume of calls for service. We respond to thousands of calls every year to help families with housing assistance, eviction prevention services and basic needs, but this year is triple what has been seen in years past" Nichols said. Donations help fund case management, programs and operating costs as well as direct financial assistance for families – particularly children and youth – facing homelessness. Specialty Construction, Dick & Patti Melsheimer, Susan & Stephen Hughes, Janice Wolf and 9 other local businesses and individuals partnered with Fin's this year to host the event.
 
5Cities Homeless Coalition is recognized as a leading advocate for the homeless in San Luis Obispo County. The Coalition strengthens the community by mobilizing resources, fostering hope, and advocating for those who are homeless and facing homelessness.