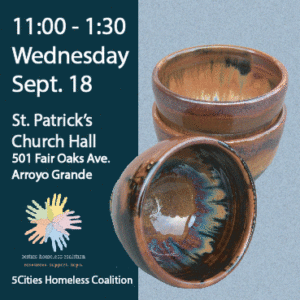 Tickets are on sale now for the eighth annual Empty Bowls Community Luncheon, coming up on Wednesday, September 18, 2019, from 11 am to 1:30 pm at St. Patrick's Church Hall in Arroyo Grande. Tickets are $25.
Join us anytime between 11 a.m. and 1:30 p.m. to enjoy lunch, or if you are in a hurry, take out is available. For $25, choose a beautiful bowl, handcrafted by a local professional artist or student volunteer, and enjoy a simple meal of delicious soup and bread that has been donated by area restaurants. Take home the bowl as a reminder of the meal's true purpose: to provide long-term solutions to the challenges of homelessness and to provide a healthier future for our community.
A selection of vegan and vegetarian soups will be available as well as gluten-free and low-salt options.
This collaborative event brings together local artists, restaurants, businesses and community members to support 5Cities Homeless Coalition. All proceeds from this event are used to help the Coalition find solutions to the challenges of homelessness in our community in collaboration with our strong community partners.
Last year's event nearly sold out, raising more than $44,000 for 5Cities Homeless Coalition programs and services. More than 120 gallons of soup from a score of local restaurants were consumed, and only a handful of bowls were left of the 800-plus that were donated by local artists, community members and students.
Tickets are available here.
Enjoy lunch prepared by these generous restaurants, markets, kitchens and bakeries:
Branch Street Deli - Chicken Tortilla
California Fresh Market - Chicken Gumbo
CJ's Café - Italian Wedding
Coco's Restaurant - Cream of Brocolli
DePalo & Sons - Minestrone
Ember - Special of the Day
Fin's Restaurant - Clam Chowder
Grover Beach Sourdough
Honeymoon Café - Vegan Pumpkin Curry (Vegetarian, gluten-free and low-salt; Ingredients: coconut milk, curry, celery, carrots, potatoes, garlic powder, onions, parsley, tomatoes, Chinese five spice and butternut squash)
House of Bread
Huckleberry's - Chili
Jaffa Café - Red Lentil (Vegetarian and gluten-free; Ingredients: vegetable broth, red lentils, salt, pepper and cumin)
Lido - Chilled Gazpacho
Mason Bar & Kitchen - Tomato Bisque
New Life Kitchen - Beef Vegetable
Oceano Elks Club - Shrimp Bisque
Old Juan's Cantina - Albondigas
Penny's All American Café - Chiken Tortilla
Rooster Creek Tavern - Chicken Tortilla
Rosa's Ristorante Italiano - Minestrone
Splash Café - Clam Chowder
Spyglass Inn Restaurant - Clam Chowder
The Spoon Trade - Vegan Tomato (Vegetarian and gluten-free; Ingredients: tomatoes, onion, olive oil and salt)
Zorro's - Vegetable (Vegetarian; Ingredients: vegetable stock and vegetiables)
Bowls have been provided by
Allan Hancock College
Altrusa International
Guyla Amyx
Anam-Cré Pottery Studio
Arroyo Grande High School
Darcy Badiali
Clayworks Pottery
Sandy Ferris
Gary Gall
Lopez High School
Mike McNutt
Bob Nichols
Ocean View Elementary School
Pottery Coast
Richard Rowe
San Luis Obispo High School
Kathryn Phelan
Paula Schaffner
Leland Swenson
Trilogy Clay Buddies
Charles Varni
Additional support has been provided by
1st Capital Bank
Altrusa International of San Luis Obispo County
Ben Trogdon
DJ Bob Stackpole
Mike McNutt
Rotary Five Cities Eco
SLOCO Data & Printing
St. Patrick's Catholic Church
Vivian Krug Cotton ~ Emotions Photography
Thanks to these major sponsors: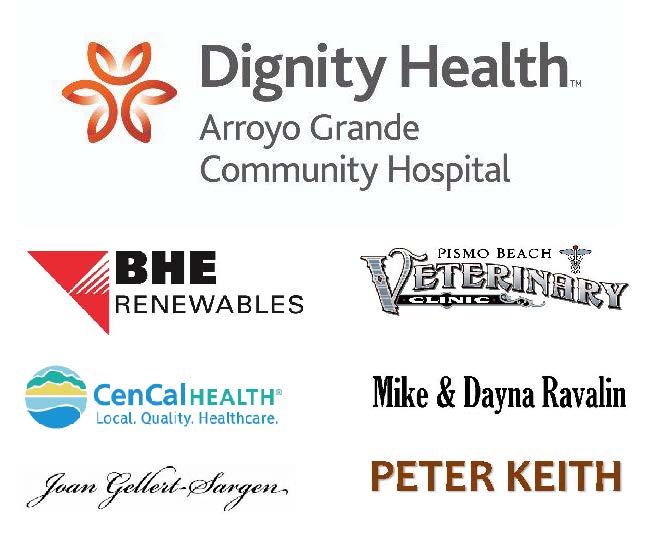 Thanks to these supporting sponsors:
5 Cities Men's Club
Anita Shower, ECO Club Five Cities
Arroyo Grande Chevrolet
Coast Circuit Solutions
Community Health Centers
First American Title
Mechanics Bank / Rabobank
Merit Profiles Background Screening
SESLOC Federal Credit Union
SLO County Board of Supervisors
Specialty Construction
Wallace Group
Brad's Restaurant
Coastal Community Builders
Coast Cities Insurance Solutions
Controller-On-Call
Fissori Real Estate Team
Five Cities CPAs, Inc.
Keller Williams Realty Central Coast
LeeAnne & George Fisher
Nancy Puder & Associates
Nipomo Presbyterian Church
Tomasini Construction
Judith Higgins
Idler's
Kiwanis Club of AG Valley
Senna's Insurance Services
Sure Mortgage
The Temple of the People
The Vernon Family
Raffle items donated by
Apropos
Patty Arias
Rosa Bartlett
Central Coast Quilt Guild
Cherry Lane Nursery
Peggy Coon
Cottonwood Canyon Winery
Designs By Edie
Doc Burnstein's Ice Cream Lab
Karen Gray
The Green Room
Harry & David
Hello Village
Judith Higgins
Bernice C. Johnson
Julia's Juice Bar
Lavendar Blue Boutique
Mason Bar & Kitchen
Pardon My French Bakery
Perfetto Café
Ron's Nursery
Arlene Sackman
Santa Barbara Historical Museum
Sidewalk Café
Sierra Body Shop
Spyglass Inn Restaurant
The Great American Melodrama & Vaudeville
The Keenan Carter Group
The Village Salon
Trader Joe's
Verdad Wine Cellars
Woodstock's Pizza
Thanks to all who make this a truly community event, and bigger and better every year!